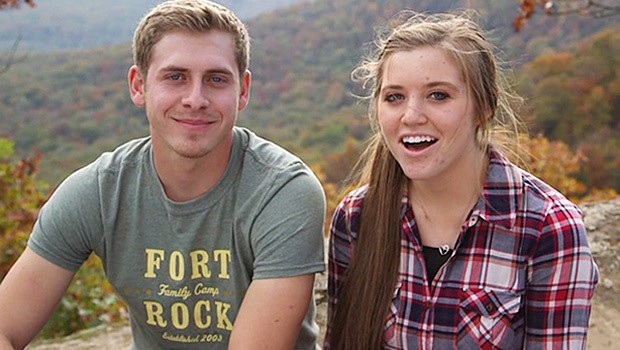 We've seen the Duggars live their unique lives out on television for the over 10 years now, and they've stayed true to the title of their show. Not only did the parental Duggars have more kids; some of their kids had grown, married, and had children of their own. Of course, the clan has expanded to include new husbands and wives, and Austin Forsyth is one of the latest additions. Austin married Joy-Anna, Duggar number nine, in May 2017 after being engaged just a couple of months. Ever since the two got together, we've seen more of Austin on reality television. But if you still don't know much about Austin, here are 10 things that you should know.
1. Background
Austin was born on December 11, 1993, which makes him 26 years old this year. He's the younger of two children, and him and his sister grew up with their parents, Terry and Roxanne Forsyth. The family owns a business, a camp called Fort Rock Christian Family Camp and Christian Retreat Center. The camp is located at the Ozark National Forest in Northwestern Arkansas.
2. Early life
Austin and his sister Meagan were both home schooled. They grew up helping in the family business and learning how to run the operations. In 2009, the siblings were featured on a Country Music Television show called World's Strictest Parents. In the show, two unruly teenagers were sent to live with the Forsyth's in their camp. The teenagers were forced to live life the way Austin and Meagan did, doing chores and attending church on Sundays. The Forsyth children lived under a strict lifestyle that many teenagers would find unappealing.
3. Joy-Anna
Austin began formally courting the Duggar girl in 2016. There was even a formal announcement made on November 15 that year, stating Austin's intention with the courtship. Austin and Joy-Anna had been friends for 15 years before they officially started dating. The entire affair was caught on camera and was featured on an episode of the 19 Kids spinoff, Counting On.
4. One thousand
Austin got engaged to Joy-Anna a few months after courtship, and the pair tied the knot shortly after engagement. The wedding at Cross Church in Rogers, Arkansas was featured on television, of course. The couple had about 1,000 guests in total. That may sound like a lot to any average person; but to a family that has more than 20 members, it's about normal. The couple celebrated their honeymoon in Switzerland and spent some time in Israel for a mission trip before heading home.
5. Fatherhood
Fatherhood came rather quickly for Austin. He became a father on February 23, 2018, less than a year after he and Joy-Anna got married. Austin's son is named Gideon Martyn Forsyth, and he weighed in at 10 lbs. 3 oz. when he was born. Austin couldn't be any prouder to have become a father, and Gideon has become another addition to the big family that Austin now belonged to.
6. Tragedy
On May 1, 2019, Austin had announced that he was going to be a father again. It was great timing considering Gideon was still little, and the two siblings would have grown close together. Just a couple of months later on July 1, 2019, Austin and his wife announced a tragedy. The couple had their 20-week ultrasound appointment just a week before, and during that appointment, Austin and Joy-Anna discovered that their unborn daughter had no heartbeat. She would have had a November 2019 birthday had she survived. Austin and his wife named their angel Annabell Elise.
7. Controversy
Ever since fans of Counting On began seeing Austin more on television, they started picking on some cues that seemed off about Austin. Some people have speculated that Austin has abusive tendencies. People are picking up on signs that Austin might be physically or emotionally abusing Joy-Anna. That idea was heightened when Austin hosted a parenting seminar on Pearl Training at his home. Pearl Training is a disciplinary method that involves striking children with objects even when they're as young as 6 months old. Austin claims that he believes in this method, but it doesn't prove that he's being abusive to Joy-Anna.
8. Career
You'd think that with Austin's strict upbringing that he would work with the family in the business once he's grown. However, Austin decided to pave his own path when it comes to his career. In fact, the reason why we don't see him at camp most of the time is because he's actually a pilot. He got his pilot license before he even married Joy-Anna. We may not see a lot about his life online, but that's only because he's not very active on social media. But we do know that he loves his family, and he loves flying.
9. Unfailing faith
In the wake of Joy-Anna's miscarriage, Austin has remained steadfast in his faith. His belief in God has not been shaken during this truly difficult time for the couple. The young couple was excited to finally have a table for four, but they believed that God had a different plan. According to Austin, he was just glad that when their baby opened her eyes for the first time, she saw Jesus instead.
10. Duggar relationship
It seemed that Austin belonged into the Duggars from the beginning. The families had known each other for so long that the marriage seemed like a natural development. Bob and Michelle Duggar have always expressed how much they loved Austin for Joy-Anna. It seems that the relationship is the same to this day, and Austin is still very much a beloved part of the Duggar family.