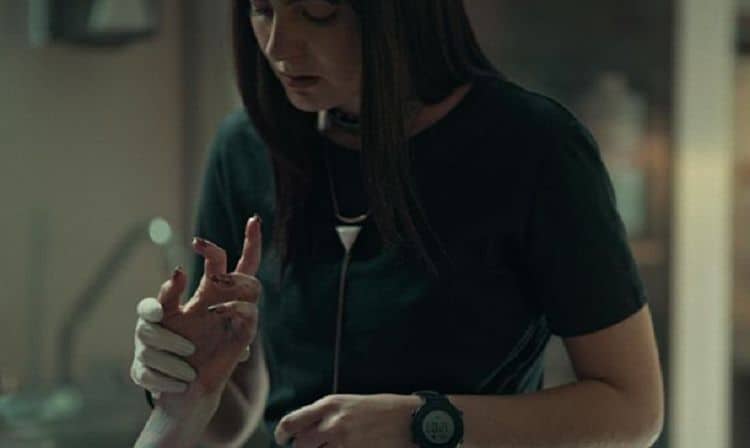 Regina Pavon has less than a decade of professional acting experience, but you'd never know by watching her work. She is talented, hard working, and a great addition to any show you see her in. Since 2013 she has worked hard to earn roles in several Mexican productions. She has appeared in several well-known Mexican TV series including The Return, Como dice el dicho. and Gossip Girl: Acapulco. Most recently, she was cast in the new Netflix series, Dark Desire. The show is predicted to be a huge success, and it could mean that Regina is on the brink or a seriously big break. Keep reading for 10 things you didn't know about Regina Pavon.
1. She Likes To Spend Time Outdoors
When you spend a lot of time at work, it's always nice to have a way to decompress and recharge after a long day. One of Regina's favorite ways to do this is to spend time outside. When the weather is nice, you can usually catch her outdoors enjoying it. She loves doing things like hiking and going to the beach.
2. She's A Model
Regina makes being in front of a camera look effortless. Not only is that an important quality for an actress, but it's equally as important for a model. While it's unclear whether or not Regina has any professional modeling experience, her Instagram is full of modelesque shots. She has also done some photoshoots for magazines.
3. She Has Been Acting Since She Was 10
10-year-olds aren't usually the most decisive people in the world, but at 10-years-old, Regina knew that acting was her calling. Just a few years later, she chose to really take acting seriously and ended up landing her first role in 2013 followed by three other roles that year.
4. She's Worked With Salma Hayek
One of the best ways to become better at anything you do it to work with people who have already been where you're aspiring to be. Throughout her career, Regina has gotten the opportunity to work with some big names including Salma Hayek. Salma is also a native of Mexico, but she has achieved great success all over the world.
5. She's Formally Trained In Acting
By the time she was 15, Regina enrolled at the Centro de Educación Artística in Mexico City where she studied acting. Her career began while she was a student there, and she's been able to work consistently ever since. She told Bogart Magazine, "I have never stopped finding work and have been able to do everything; theater, cinema, series, soap operas… I have been fortunate to try a little of everything."
6. She Has Theater Experience
Regina has been getting a lot of attention for her on screen work, but she also has some theater experience as well. According to her resume, she had a role in a 2015 stage production of Ah Soledad by Eugene O'Neall. For many actors, doing theater work is a great way to sharpen their skills.
7. She Loves To Exercise
Regina enjoys working out as often as she can and she has a special interest in boxing. Keeping yourself in good shape can have a positive impact on your physical health, but it can also be great for your mental health as well. Regular exercise can help with things like depression and anxiety.
8. She's Excited About The Future
Even though Regina has already achieved a lot in her career, she's very excited to see what the future has in store for her. During her interview with Bogart Magazine, she said, "I feel very nervous and very excited with all the new things that are happening in my life, I know that they are great things and that they are for the good, but I am looking forward to what is coming."
9. She Did A Lot Of Research For Her Character On Dark Desire
One of the most challenging aspects of acting is getting into character – especially when the character is someone you don't have lots of things in common with. In Regina's case on Dark Desire, her character is a member of the LGBT community who is struggling with her sexuality. Regina felt that it was important to do some research so she could accurately portray the character without being offensive.
10. She's Very Active On Social Media
Having a strong social media presence can be very beneficial for actors. Not only do these platforms give actors to connect with their fans, but they're also a great tool for marketing. Regina has a strong social media presence. On Instagram, she has 324,000 followers.