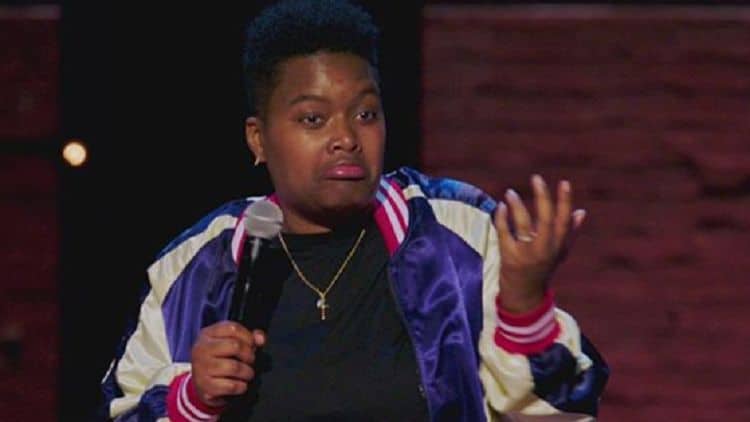 If you're a fan of comedy specials, you may have already seen Sam Jay's new Netflix special, 3 in the Morning. If you haven't seen it, it's the perfect thing to watch if you're looking for a good laugh. Some people may think that Sam is new to the comedy world, but that couldn't be any further from the truth. She has been doing stand-up comedy for nearly a decade and she joined the writing staff of Saturday Night Live in 2017. Her brand of humor is small, self ware, and more importantly, hilarious. Now that she's got one special under her belt, her fans are already wanting to hear more. Continue reading for 10 things you didn't know about Sam Jay.
1. She Released A Stand-Up Album
3 in the Morning has given Sam some much deserved wide scale exposure. But it isn't technically the first project she's released. In 2008, she released a comedy album called Donna's Daughter. Sam, who has some experience working in the music industry, also incorporated her love for music in the project.
2. She Was Nominated For An Emmy
During her time with SNL Sam has written several well-known skits including the Cha Cha Slide. The hard work she's put in definitely hasn't gone unnoticed and she's earned two Emmy nominations for Outstanding Writing for a Variety Series, one in 2018 and another in 2019.
3. She Likes To Play Devil's Advocate
Every group needs a contrarian, and Sam Jay doesn't mind being that person. She told the Washington Post that she's always liked to play the devil's advocate because she enjoys challenging how people think. Sam also applies this philosophy in her stand-up routines by writing jokes that make people think.
4. She Was Born In Atlanta
Sam was raised in Boston and she is incredibly proud of her city. However, she was actually born in Atlanta. She returned to Atlanta as a young adult and now considers it her second home. In fact, she chose to film 3 in the Morning in Atlanta instead of Boston.
5. She Auditioned To Be A Cast Member On SNL
Being hired as a writer on SNL has been a game changer for Sam's career, but it wasn't something she planned on doing. During her interview with the Washington Post, she said, " I went through the cast process. I was auditioning for that. And then they just were like, we don't know if that's right but we still want you around, and would like to offer you a writing job."
6. She Had A Very Close Relationship With Her Mom
Sam had a very close relationship with her mother, Donna. As a child, Donna made it a point to let Sam know that she was capable of doing anything she put her mind to. Sadly, Donna passed away several years ago, but she lives on through Sam and her comedy.
7. She's Divorced
During 3 in the Morning, Sam cracked a lot of jokes about experiences she's had with her girlfriend. However, what she didn't mention was that she's already been married and divorced. The good news, for anyone who wants the tea, is that she touched on the process of going through a same sex divorce on her album.
8. She Studied Communications In College
Sam's road to becoming a stand-up comedian wasn't a straight shot. After high school, she enrolled in college and majored in communications. It didn't take her long to realize that communications simply wasn't for her, and she dropped out of school. She ended up moving to Atlanta where she worked as a music manager before finally deciding that she wanted to give comedy a try.
9. She Doesn't Like Concerts
Since Sam is a huge music fan, most people would probably assume that she's also a fan of live shows, but she actually doesn't like them at all. She feels that shows performed at large venues simply aren't personal enough. She said, "Unless I'm sitting front row, I don't like it." Thanks to her role on SNL, Sam was able to get the intimate live performance experience she loves with one of her favorite artists. Sam told Exclaim, "I held out and I didn't see JAY-Z, and then this last season of SNL, he was the first musical guest. And I got to see JAY-Z in a little-ass studio and watch him rehearse and it was just me, camera and production people, and it was like, 'Oh, this is how I always wanted to see JAY-Z. This is cool."
10. She's Almost 40
If you had to guess Sam's age, you'd probably shoot somewhere in the late 20s/early 30s range – and if you did that you'd be wrong. Sam is actually 38-years-old. She didn't even begin her stand-up comedy career until she was 29. For anyone who feels like it's too late to follow their dreams, Sam's story is proof that you can't always put a time limit on things.