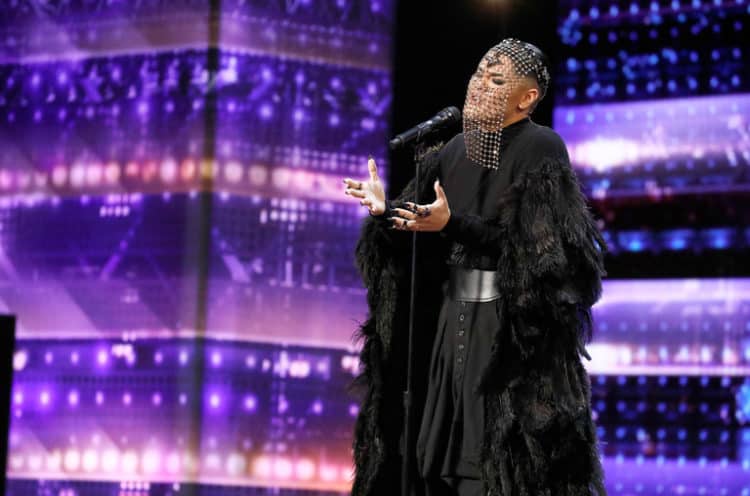 When Sheldon Riley walked out on the stage to perform at America's Got Talent, no one knew what to expect. His unique outfit combined with the fact that he didn't respond when Simon spoke to him had a lot of people thinking his performance was going to be a complete wash. However, that wasn't the case at all. As soon as he opened up his mouth to sing, everyone in earshot knew that he had a very special talent. His performance of "idontwannabeyouanymore" by Billie Eilish earned him a shot at the next round and a chance to become the next winner of America's Got Talent. We'll have to wait and see how things ultimately pan out for him on the show, but even if it doesn't make it to the end, he's already made his mark. Continue reading for 10 things you didn't know about Sheldon Riley.
1. He Comes From A Diverse Background
Sheldon was born and raised in Australia. Although the particular areas where he grew up weren't very diverse, he personally comes from a diverse background. His father is 100% Filipino and his mother is Scottish/Irish. Sheldon is proud of all of cultures he comes from and they've helped shaped him into the person he is today.
2. He's Struggled With Self Acceptance
When you don't see other people who look like you, it can be hard to feel like you belong. This is something that Sheldon has dealt with for much of his life. He told Honey, "…it's the last two or three years that have been a big, big change for me. I didn't love myself." He continued, "I would go to the extent of saying that I hated myself, I hated being me. I hated the fact that I was different from everyone else."
3. He Loves Fashion
Music isn't the only thing that Sheldon is passionate about. He also loves fashion and puts a lot of time and effort into putting together looks, not only for his performance but for his every day life. His unique and creative fashion sense definitely helps add another layer to his performance.
4. He's In A Relationship
Sheldon is a proud member of the LGBTQ community and he's in a happy relationship with a man named Zachery Tomlinson. By the looks of his Instagram account, Zachery doesn't seem to work in the entertainment space. He appears to have spent years living on a farm and enjoys things like traveling and spending time outdoors.
5. He Hopes To Inspire Others
As someone who didn't grow up seeing other people like him, Sheldon now hopes to be that person for others. He has officially become a role model to many of his young fans and that's something he takes very seriously. He hopes to inspire people to love and accept themselves.
6. He Has a Very Close Relationship With His Family
Having a strong foundation is important for everyone, but it's especially important when you're pursuing a demanding career like singing. Having a job that often comes with lots of rejection can be difficult, but Sheldon is lucky to have a very close relationship with his parents and sister.
7. He Performed On The Voice Australia
When Riley performed on America's Got Talent, some viewers instantly recognized his voice. That's because he was also a contestant on The Voice Australia. In fact, he made it all the way to the grand finale on season 7 and ended up coming in third place. Previously, he also competed on The X Factor with a group called Time and Place.
8. His Last Name Isn't Actually Riley
Lots of performers decide to use stage names for various reasons. However, even some of Sheldon's biggest fans don't realize that Sheldon Riley is actually a stage name. During his interview with Honey, he revealed that his is Hernandez. He didn't explain why he chooses to use a different last name when performing.
9. He Dealt With Bullying
Self acceptance isn't the only thing Sheldon struggled with, he also struggled with being accepted by others. While he was growing up he dealt with lots of bullying which resulted in him having little confidence. Through performing, however, he has been able to find and develop his inner strength.
10. His Dad Helps Him Create His Outfits
The elaborate outfits Sheldon wears when he performs don't just come out of thin air. They are actually the result of some serious team work between him and his dad. Sheldon's father is a talented artist who loves to draw and helps brings Sheldon's design ideas to life. Together, these two have some up with some very amazing outfits.