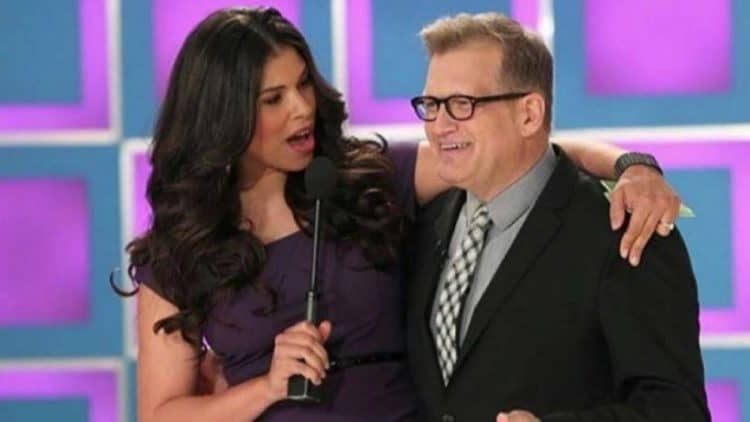 Many people know Gwendolyn Osborn-Smith from her marriage to retired NBA player and current sports analyst, Kenny Smith. What many people don't know is that Gwendolyn has been doing her own thing since long before her marriage and she's continued to do it after the couple's divorce. She is a professional model who spent over 12 years modeling on The Price is Right and left the show in 2012 to focus on other interests. Since then, she has been working hard to continue to make a name for herself and prove that she can stand on her own two feet. Keep reading for 10 things you didn't know about Gwendolyn Osborne-Smith.
1. She Is A Singer
Gwendolyn is definitely someone who isn't afraid to try new things and she's always looking for ways to let her creative side shine through. In addition to the work she's done as a model, she's also a singer and has been singing since she was just a child. At one point, it appeared that she was working on an album but it doesn't look like it was ever released.
2. She Is From The UK
Gwendolyn has lived in the United States for many years, but she was born and raised in England. Her father is white and her mother is Jamaican. Gwendolyn is very proud of the cultures and traditions that have come together to make her who she is. However, she acknowledges that being biracial has sometimes made it difficult for her to fit into certain spaces.
3. She Made History With Her Time On The Price Is Right
Being on The Price is Right has been one of Gwendolyn's proudest accomplishments for many reasons. In addiction to getting the chance to be a part of one of the most popular game shows on TV, Gwendolyn also made history as the longest running woman of color on a daytime game show.
4. She Is An Aspiring Actress
Over the years, Gwendolyn has also tried her hand at acting. She actually made her on screen debut with a small background role in the 1999 film Any Given Sunday which starred Jamie Foxx. She's landed a few other roles over the years although her acting career never really took off.
5. She Is A Big Believer In Self Care
Being busy is a great thing, but not when it comes at the expense of your health. When you love your job it can be easy to over extend yourself and spend all of your time working. Gwendolyn, however, is a firm believer in the importance of self care and always takes the time to make sure she's tending to her own needs so she can be rested and recharged when she's working.
6. She Has A Daughter Before Her Marriage To Kenny
Gwendolyn and Kenny had two children together during their marriage, but she also has a daughter from a previous relationship. During an interview with Consciousness Magazine, Gwendolyn said that one of her biggest achievements was being able to take the leap to start her career as a single mom.
7. She Loves To Travel
Most people would agree that if you ever have the chance to travel you should take it. Gwendolyn has been blessed to have a lifestyle that offers her the opportunity to travel far and travel often. She has visited several countries including Kenya and Anguilla.
8. She Loves To Work Out
Looking and feeling good are two of the Gwendolyn's biggest priorities. She's a very active person who enjoys working out on a regular basis. Not only does staying active help her keep her beach body all year, but it's also a great way to release the stress and tension from long days.
9. She Is A COO
There are a lot of people who probably assume that Gwendolyn doesn't have anything to offer except for good looks, but that isn't true at all. She is a very driven business woman who has also become the COO of Smith Entertainment Group. However, it's unclear what her status is with the company now that she and Kenny are no longer together.
10. Meryl Streep Is Her Favorite Actress
As a big movie fan, Gwendolyn told Naluda Magazine that Meryl Streep is her favorite actress. She said, "Meryl Streep. I had to study her in college and she is constantly growing and stretching as an actress. I really respect that." She added "I love Viola Davis also. She has worked hard for an extremely long time and I'm so happy to see her getting her shine now.