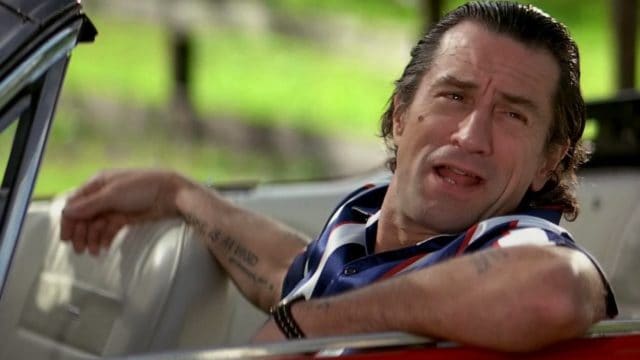 Currently the Museum of the Moving Image in New York is putting on a Martin Scorsese exhibit.  During the run of the exhibition, the Museum will present a comprehensive retrospective of the director's work, with the best available film prints and restored versions of his films, supplemented with personal appearances. Additional screenings will feature a selection from the hundreds of classic movies restored by the Film Foundation under Scorsese's supervision, and a selection of films that formed his lifelong love of cinema.
The exhibit spans Scorsese's unparalleled filmology, from a storyboard he drew at age 11 for an unproduced sword-and-sandals epic titled The Eternal City through Mean Streets, Taxi Driver, Raging Bull, and more. But perhaps no image on display is more striking than this simple continuity photo, taken during the production of Scorsese's 1991 remake of Cape Fear, in which De Niro plays the psychopath Max Cady. (Via Vulture).
While the purpose of this photo is to document the character tattoos it reminds the viewer of just how intense De Niro's performance was. It kind of gives you the chills just to look at this photo. But if there's one moment of chills from Cape Fear I'd like to rehash, it's that unforgettable Max Cady laugh in the movie theater.
Photo: Courtesy of Harry Ransom Center, University of Texas at Austin/Robert De Niro Collection
Still though, nothing compares to this laugh, nothing.