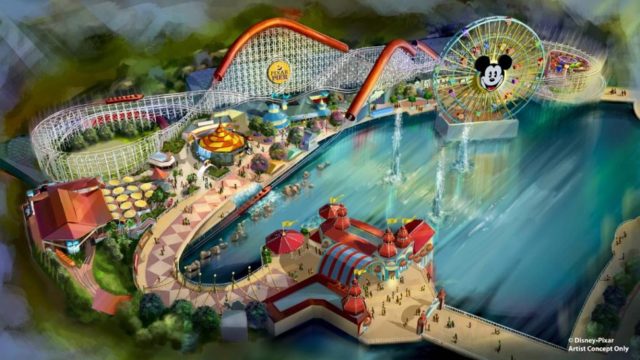 Disney is constantly striving to add new innovations to their parks to keep visitors coming and to follow current trends and interests. With this in mind, the Disney California Adventure Park is about to see some big changes. They are reinventing a whole area of the park to create a section inspired by 'The Incredibles'. People visiting this theme park from summer 2018 onwards can enjoy a range of new themed attractions in the new area which is called 'Pixar Pier'. It is completely different to anything the park has had before. Here are five things you need to know about Pixar Pier.
1. There are Four Neighborhoods
Pixar Pier is divided into four themed neighborhoods. The first neighborhood is devoted to 'The Incredibles 2′. The second neighborhood is dedicated to 'Toy Story' and the main attraction of this section is 'Toy Story Mania!'. Neighborhood number three is one inspired by the film 'Inside Out' that features a family-friendly attraction. Finally, there will be a neighborhood that showcases a variety of Pixar character favorites. The existing Mickey's fun wheel is being given a new look although the dace of Mickey Mouse will remain. The Games Boardwalk currently features the Bullseye Stallion Stampede game but this is being replaced by a range of games that are inspired by the characters of Pixar, such as characters from 'WALL-E', 'La Luna', and 'A Bug's Life'.
2. The 'Incredicoaster' is One of the New Rides
One of the main attractions of Pixar Pier is the 'Incredicoaster', which is a rollercoaster inspired by 'The Incredibles 2′. It is located in the Incredibles neighborhood of Pixar Pier and offers a whole new experience. Guests will enter a boarding area before they board new-look vehicles. The ride also boasts new characters, new scenes, and exciting special effects. There is also a musical score that will connect the ride to the movie which is set for release on June 14, 2018. Therefore, this is a ride that stimulates the senses.
3. There are New Refreshments Areas
Currently, there is the Cove Bar and Ariel's Grotto Restaurant. Altho0ugh these will no longer exist, visitors do not need to worry about refreshments during their visit. These are being replaced by a new lounge and grills that has wonderful views of Pixar Pier and Paradise Bay.
4. Paradise Park is a New Area
Another new section of Pixar Pier is Paradise Park. Formerly, this area was called Paradise Pier and it consisted of Silly Symphony Swings, The Little Mermaid- Ariel's Undersea Adventure, Jumpin' Jellyfish, Paradise Gardens, Golden Zephyr, and Goofy's Sky School.
5. It Will Open for the Pixar Fest
The California Screamin' area of the park will close down on January 8, 2018, in preparation for the park's refurbishment. It is planned that the new Pixar Pier will open in time for the Pixar Fest. This will begin on April 13, 2018. Two of the main features of this event is the 'Paint the Night' Parade and the 'Pixar Play Parade. There is also a magnificent firework display called 'Together Forever- A Pixar Nighttime Spectacular'. There are also many other exciting displays and events taking place throughout the Disney resort at this time.