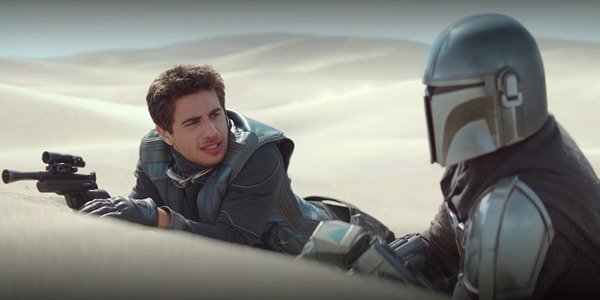 Jake Canavale is an American actor who made his debut in 2005 in the movie "Romance & Cigarettes." He's appeared in television series and films off an on through the years since, but is best known for his role as Charlie Cruz in "Nurse Jackie," (2012). He's a popular actor who's been around for a dozen years in the Hollywood scene, but fans haven't been given a lot of information about him, so here are five things about Jack Cannavale that you probably didn't know.
He's a part of a father and son acting team
It's not that common for a father and son to have the privilege of working together in a television series. Jake Cannevale is fortunate that he had the opportunity to appear with his dad, actor Bobby Cannavale, in "Nurse Jackie." His father in real life played his father on the show. Some fans may have already made the connection, but many didn't realize that the two were so closely related in real life.
He comes from a family of famous people
In addition to having an actor dad, Bobby's mother, Jenny Lumet is also an actress. She and his father are divorced, but they were married for a period of time. This is where Jake gets the hyphen in his birth name which is Jacob Lumet-Cannavale. Lena Horne was Jake's great-grandmother and his grandfather, Sidney Lumet. The means that Jake is a fourth generation celebrity.
He's also a stage actor
Here's another interesting fact about Jake Cannavale. He has performed as a stage actor in a Broadway play. This isn't the best part of it though. This not only makes him a fourth generation celebrity, but also the fourth generation to perform in a Broadway play. He follows in the footsteps of his famous ancestors before him. We believe that it simply runs in his blood.
He has a polyglot ethnicity
It's often difficult to tell the ancestry of a person just by looking at them. This is one of the reasons why the more popular ancestry sites offer genetic testing. Jake Cannavale knows where his family roots originate. He is a mixture of Northern European, Cuban, Italian, Native American, Ashkenazi Jewish and Sengalese. This is quite a mouthful if you're trying to explain it to your children.
He has four pending projects set to deliver soon
Jake has been busy for the past year or so and it doesn't look like he's going to get a break soon. He's currently involved in four film projects which are in various stages of production. The pilot for teh television series "Misfits" is in the pre-production stage. The film "Lenny" which is a short has made it to the post-production phase and "Eat Brains, Love," scheduled for release in 2018 is in its post-production phase. The final project is titles "The Crackhouse and the Devil" in which he plays a character named Lonzo, is in its pre-production stage. It's clear to see that Jane Cannavale has quite a few irons in the fire, which is exciting news for fans.