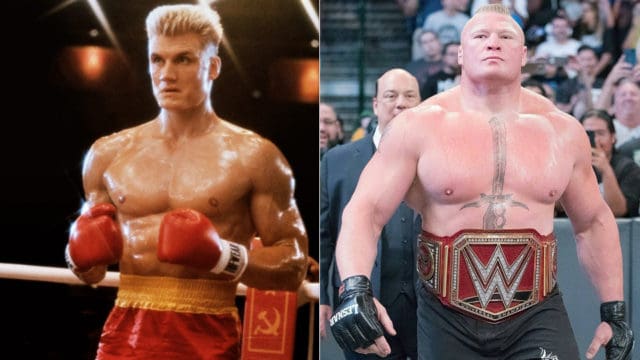 There are reports that Brock Lesnar could be playing Ivan Drago's son in the upcoming Creed 2. This has not been confirmed at this point in time, but it is far from being baseless, as shown by the fact that Stallone has stated that the movie would have a callback to the character as well as the fact that Stallone was the one who teased the potential casting. Still, it is much to soon to say that Lesnar has been chosen to play Ivan Drago's son, meaning that interested individuals might want to wait for more information to come out before making a decision about what this means for their interest in the upcoming Creed 2.
With that said, if these reports are true, Lesnar seems like he could be a solid choice for playing Ivan Drago's son in Creed 2. Granted, he doesn't have a great deal of experience as an actor, but assuming that the character will be a contender in the ring, it seems probable that he will have no problems playing the part, seeing as how he is a professional wrestler as well as a former professional mixed martial artist. In fact, those who are not particularly familiar with his name should know that he is one of the most successful competitors in his chosen fields, meaning that he certainly has the physicality needed for playing Ivan Drago's son.
What Else Do We Know About Creed 2?
Regardless, it is still much too soon to say too much about whether Lesnar will be playing Ivan Drago's son in Creed 2 or not. Instead, it might be more interesting to focus on what else is known about the upcoming movie at this point in time.
For those who didn't catch the first Creed movie, it is centered around Michael B. Jordan in the role of Adonis Johnson Creed, who is Apollo Creed's son from an extramarital affair. Initially, he attempted to pursue his dream of becoming a boxer by approaching an old family friend, but when he was turned down, he sought out a retired Rocky Balboa at Balboa's Italian restaurant. In a real way, the first Creed movie paralleled the first Rocky movie, as shown by the fact that it ended with Creed losing a fight against a much more experienced boxer but nonetheless managing to win not just his opponent's respect but also the audience members' respect in the process.
As a result, if Lesnar is going to appear in Creed 2, it is difficult to imagine that he is not going to have a huge role in the upcoming movie, seeing as how his father was killed in a boxing match with Ivan Drago. For that matter, it should be noted that Creed's dream of becoming a boxer complicated his relationship with his father's widow Mary Anne, who remembered vividly how Apollo Creed had been killed in the boxing ring, meaning that there is that angle as well. Regardless, it is still unknown when Creed 2 will be released after it was postponed once, but hopefully, more news will come out sometime soon about the potential casting of Lesnar as well as the rest of the upcoming movie.